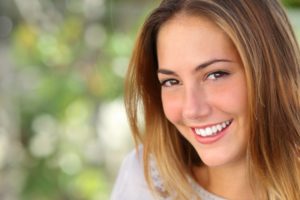 Even if the health of your smile is in good shape, there are always ways to give yourself an extra boost where you need it. For example, one of the most popular treatments dental practices offer is teeth whitening, a fast and effective way to make your smile multiple shades whiter. Additionally, your dentist offers porcelain veneers, Invisalign clear aligners, and dental implants!
All these treatments can make a big difference in your smile's appearance and even functionality. To find out how, keep reading this post from your dentist in Mount Pleasant.
Teeth Whitening
Patients looking for a quick and easy way to brighten their smile effectively and safely should take note of in-office whitening. Through Zoom! Whitening, patients can get a whiter smile in about an hour with powerful bleaching gel and our specialized lighting device. Your lips and gums are given protection before treatment, so you won't have to worry as the gel works to break up stains.
Alternatively, patients can take advantage of at-home whitening kits which make over-the-counter whitening kits look like child's play. These custom-made trays are designed to fit your teeth exactly, preventing any gel from spilling out or touching other parts of your mouth. After wearing the trays for 30 minutes a day for two weeks, your dentist in Mount Pleasant can get your smile looking 6 to 10 shades whiter!
Porcelain Veneers
Porcelain veneers are wafer-thin sheaths of high-quality porcelain designed to rest directly on the surface of teeth, covering discoloration, chips, cracks, gaps, and other imperfections. They are customized to match the rest of your teeth all the way down to the shape, size, and color, so you don't have to worry about having the appearance of "chicklet" teeth. Veneers typically take two appointments to place: one for measuring and prepping teeth and another for placement.
Invisalign Clear Aligners
No longer do you have to settle for complex metal hardware to realign teeth. Clear aligners from Invisalign work to shift teeth through small amounts of pressure over a long period of time. Fixing poor bites and misalignment is faster, easier, and won't change your appearance thanks to the clear material Invisalign utilizes for treatment.
Dental Implants
Compared to the other treatments, dental implants are the most complex and substantial improvement you can make to your smile, mainly because they're designed to replace teeth entirely. When teeth are lost, they take the root with it, causing many basic functions to be more difficult.
When you get a prosthetic root (or implant) placed and a dental crown put on top, you can get your smile and your oral functions back simultaneously! There really are no other tooth replacement options quite like dental implants.
When you visit your cosmetic dentist in Mount Pleasant, you're guaranteed to leave with a smile you can be proud to show off. Schedule a consultation with her today to learn which treatment is best for you!
About the Author
Dr. Virginia L. Gregory earned her DMD degree from the Medical University of South Carolina. She's also a member of the American Academy of Cosmetic Dentistry. To learn more about her cosmetic treatments or practice, contact her through her website.