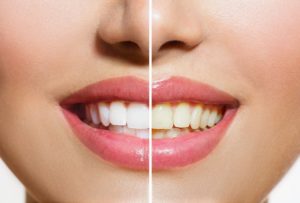 Is your smile ready for its close-up? The holidays are a time of year where everyone in your life wants a good picture. However, this can be a problem if you're self-conscious about stains or discoloration in your grin. Thankfully, your dentist has the best kind of teeth whitening for a beautiful set of pearly whites. Read on to discover the benefits that whiter teeth in Mount Pleasant will bring you for the holiday season from an expert dentist.
Your Beautiful Whitening Options
Your dentist in Mount Pleasant provides 2 types of teeth whitening for your convenience:
In-Office
For a dramatically whiter smile in the shortest amount of time, your dentist in Mount Pleasant offers Zoom! teeth whitening. In just one hour, you can receive a smile that is up to 10 shades brighter using the fastest and safest whitening technology available.
At-Home
Do you want incredible whitening results in the comfort of your own home? 2 quick visits to your dentist and you'll have custom-made whitening trays for at-home use. You just wear these trays for 30 minutes a day for 2 weeks to achieve results. This kit has professional grade whitening gel, which makes it much more effective than any over-the-counter whitening kits.
The Benefits That Teeth Whitening Bring
Whether it's routine coffee or wine drinking, tobacco use, or plain-old aging, your teeth can become stained and discolored for any reasons. Teeth whitening can remove stains that can plague a once beautiful smile.
Because it's the holiday season, teeth whitening is a great, quick, and easy way to get your smile ready for all of the family, friends, parties, and of course, pictures. Not only will this make you appear healthier, younger, and more beautiful, but it will increase your confidence and self-esteem knowing that you can flash your grin without yellow or stained teeth.
Better Than In-Store Products
Have you ever tried whitening toothpaste or strips? These products claim they give you results, but even when they do, their whitened appearance fades quickly. Although no whitening treatment is permanent, Zoom! teeth whitening uses a powerful and safe bleach combined with a high-tech light to deliver you noticeable and lasting results. Additionally, the same professional strength whitening gel can be found in the at-home kit provided by your dentist in Mt. Pleasant.
Does it sound like you could benefit from a whiter smile during the holidays? Take on the New Year with a beautiful set of pearly whites thanks to professional teeth whitening.
Meet the Dentist
Dr. Virginia L. Gregory takes great pride in offering beautifying services like teeth whitening. She loves to see her patients' boost in confidence after receiving a dazzling grin. She currently runs her own practice, and she can be contacted through her website or by phone at (843) 884-8884 for any questions.