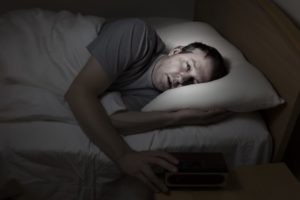 Sleep apnea is a common problem that causes interrupted breathing during sleep, which leads to loud snoring and restless nights. Sleep apnea can have a serious affect on your day-to-day life because it hijacks your much-needed time of rest, but recent studies have shown that it can also have an impact on the health of your heart. Keep reading to learn more about sleep apnea in Mt. Pleasant and how it can affect your cardiovascular health.
What is Sleep Apnea?
Sleep apnea is a serious sleep disorder that causes those affected by it to stop and start breathing during sleep. With untreated patients, this can happen sometimes hundreds of times. There are 2 different types of sleep apnea, but the most common is obstructive sleep apnea. With this disorder, the muscles in your throat and tongue relax, causing a blockage of your airway. If untreated, this disorder can lead to serious health risks because it means that your body and brain aren't getting enough oxygen.
What are the Symptoms of Sleep Apnea?
It is estimated that around 80% of sleep apnea cases are untreated, which is why it's important to recognize the symptoms in you or your partner. Seek sleep apnea treatment in Mt. Pleasant if you notice these warning signs:
Loud snoring
Waking up with a sore or dry throat regularly
Sleepiness during the day
Sleepiness while driving
Morning headaches
Restless sleep
Forgetfulness and changes in mood
Recurrent awakenings
How Can It Affect My Heart?
Unfortunately, the impact that sleep apnea has doesn't stop at its symptoms. It can also increase your risk of serious health issues like:
High blood pressure
Stroke
Diabetes
Heart failure
Heart attacks
Irregular heart beats
More specifically, studies conducted by Harvard Medical School show that sleep apnea is found in 47% to 83% of people with cardiovascular disease. They also found that 12% to 53% of people with heart failure had sleep apnea and that 35% of those with high blood pressure suffered from this disorder. Although startling, research shows that untreated sleep apnea may raise the risk of dying from heart disease or heart related problems by up to 5 times.
Have you or your partner noticed any of the signs or symptoms? Now that you know the impact that sleep apnea can have on your health, contact your dentist in Mt. Pleasant to get expert treatment. Visiting your dentist is a great first step towards getting your great night's sleep back.
Meet the Dentist
Dr. Virginia L. Gregory is a highly-trained dentist with a passion for quality care. She believes in patient education, which is why she wants you to know some of the hidden risks of sleep apnea. She currently runs her own practice, and she can be reached through her website or by phone at (843) 884-8884 for any questions.