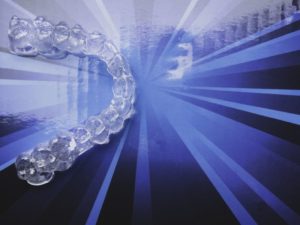 Are you considering Invisalign® braces but don't know if you're ready for the responsibility that comes with them? It's really no surprise since these clear, plastic trays take some getting used to, not only with regard to how they feel but how to take care of them as well. If you're struggling to figure out the best way to incorporate them into your daily routine, let us answer some common Invisalign® FAQs in Mt. Pleasant.

What is Invisalign®?
If you're looking for an orthodontic treatment that doesn't require wearing metal brackets and wires for more than a year, Invisalign® Clear Braces are a great alternative. Using clear, plastic aligner trays, they gently shift your teeth into the proper place.
How Can I Eat and Drink with Invisalign®?
One of the great aspects of Invisalign® is that you can eat and drink whatever you want. The aligners are designed to be removable, making it easy to take them out anytime you're hungry or parched. When out to eat, simply remove your trays and place them in their designated case to protect them from damage. Make sure to rinse your mouth with water if you are unable to brush your teeth after eating and drinking. Also, make sure to rinse your aligners before reinsertion, to remove any bacteria or dried saliva.
Also, water is the only thing you can consume while wearing your aligners, but remember to never drink hot water while wearing Invisalign®. The temperature can warp the plastic.
How Often Will I Need to See the Dentist?
Another benefit to Invisalign® is that you will not need to see the dentist as often as you would with traditional braces. Wires require frequent adjustments to forcibly move the teeth into their desired position; however, with Invisalign®, you will already have your designated sets at home. After two weeks of wear, swap out your trays for the next set in the series.
You'll be expected to see your dentist every 6 weeks to make sure your teeth are moving in the right direction, but the appointments are quick, so you can be back to your normal schedule in no time.
Can I Continue to Brush and Floss Like Normal?
Absolutely! You will need to maintain good oral habits, so in order to do that, just remove your aligners and brush, floss, and rinse as normal. To clean your trays, you can use a soft-bristled toothbrush to remove any bacteria or saliva, and rinse. It is also helpful to soak your aligners in a denture cleaner or special Invisalign® cleaning crystals.
If the answers provided make you feel more at ease about Invisalign®, talk to your dentist about when you can get started. Before you know it, you'll have a new smile for everyone to see.
About the Author
Dr. Virginia Gregory, DMD, graduated from the University of North Carolina Chapel Hill with a bachelor's degree in dental hygiene before earning her Doctor of Dental Medicine from the Medical University of South Carolina. In addition, she achieved a master's degree in speech pathology. Dr. Gregory understands the importance of a straighter smile, which is why she offers a cosmetic alternative – Invisalign® Clear Braces. If you want to achieve a new, beautiful smile, contact us at (843) 884-8884.