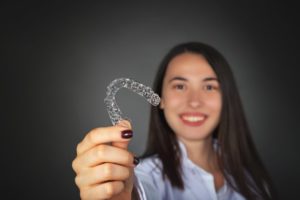 Invisalign is a favored orthodontic option among teens and adults, and for good reason: compared with braces, there are no brackets or wires, no eating restrictions, and it's much harder for the casual observer to notice. However, just because there are no metal parts doesn't mean that there's no maintenance involved. In order to get the best results (and avoid needing a costly replacement!), you need to make sure that you're taking good care of your Invisalign aligners. Here are 5 tips for doing so.
1. Make Sure You Clean Your Aligners Regularly
Even though you'll remove your aligners to eat, food particles on your teeth can still get stuck inside; they could lead to tooth decay if not removed. You should make cleaning your aligners part of your regular oral hygiene routine – in other words, it should be done every time you brush and floss, meaning at least twice a day.
2. Use the Right Tools for Cleaning
Use a soft bristled toothbrush with toothpaste to gently brush every part of the aligners with small, circular motions. You'll need to rinse it afterwards with lukewarm water; avoid using water that is too hot, as it can affect the shape.
3. Know When to Use the Cleaning Solution
Plaque can build up on your aligners just as it can build up on your teeth; if it hardens into tartar, it'll be hard to remove with a regular toothbrush. If you notice a cloudy, white film on the aligners, it's a sign of tartar; you'll need a cleaning solution in order to remove it.
Ask your dentist about the right kind of cleaning solution to use; some products contain ingredients that could lead to corrosion. Never soak your aligners in mouthwash, as this can lead to discoloration. After cleaning is done, you can either place them back in your mouth or in a case to dry.
4. Make Sure an Aligner is Clean When You're Done with It
Each set of aligners will be worn for a set period, usually one to two weeks; your dentist will check on your progress and adjust the schedule as necessary.
In some cases, you'll be told to go back to wearing a previous aligner. For this reason, always make sure your aligner is clean and properly stored in its case before moving on to the next one.
5. Be Careful Not to Forget Your Aligners
One common mistake people make is forgetting to put their aligners back in after eating or brushing. This can extend treatment time. Additionally, if you lose your aligners altogether, you'll need to pay for a replacement. To avoid these situations, you may find it helpful to come up with some sort of reminder.
Along with the above tips, make sure to be aware of any potential complications with your aligners. If you notice any pain while wearing them, speak with your dentist. Invisalign can put you on the road to a better smile, but you'll need to do your part to make sure the process goes as smoothly as possible!
About the Author
Dr. Virginia Gregory received her Doctor of Dental Medicine degree from the Medical University of South Carolina, and she is currently a member of the American Academy of Cosmetic Dentistry. She offers several treatments that can improve the appearance of patients' teeth, including Invisalign. To schedule an appointment at her practice, visit her website or call (843) 884-8884.