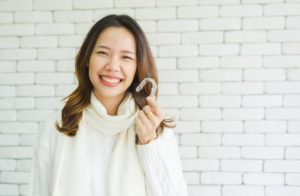 You've decided to straighten your teeth, but should you choose an advanced method like Invisalign? It can help you finally have a confident smile even during treatment. But you have questions and concerns about how Invisalign will affect your lifestyle. Will you have to change a lot in your daily routine to make room for treatment? How can you make sure that you achieve the results you're looking for? Keep reading to get helpful answers to Invisalign FAQs.
How long do I need to wear the Invisalign aligners?
For best results, you need to wear the aligners between 20 and 22 hours every day. If you don't, your teeth may take longer to straighten, and your treatment may take longer to complete. Typically, patients achieve final results after 12 to 18 months.
When should I switch to the next set of aligners?
Make sure you follow your dentist's specific instructions, but in general, you should move on to new aligners about every two weeks. Keeping up with this schedule will help you stay on track with your treatment plan and bring you one step closer to the straight smile you've always dreamed of.
How often do I need to see the dentist?
Your dentist will tell you when they need to see you to check on your progress and give you the next batch of alignment trays. On average, Invisalign treatment usually means that you can go six to eight weeks between dental visits. Compared to traditional braces, Invisalign gives you more time out of the office that you can use doing something else!
Will the Invisalign alignment trays hurt?
When you first start treatment, and as you switch to the next set of alignment trays, you may experience some soreness or pressure for a few days. Make sure you continue to wear them because this discomfort will subside, which is a sign that the trays are working and effectively moving your teeth into position.
Are there any diet restrictions with Invisalign?
Absolutely not. During Invisalign treatment, you are allowed to eat whatever you want. All you have to do is remove the alignment trays, eat, and then brush and floss your teeth before putting the trays back in.
Will Invisalign treatment affect my ability to participate in sports or activities?
Invisalign should not interfere with your activities at all. The clear aligners are comfortable and should fit you so perfectly that you might even forget that you're wearing them. Plus, without metal brackets and wires, you're less likely to have orthodontic emergencies.
Why do I need to clean my aligners?
Although you'll be wearing your aligners for about two weeks before moving on to the next set, the clear plastic can become cloudy, making them more visible. In addition, the trays can become a haven for cavity-causing bacteria if they aren't cleaned daily.
How do I clean my aligners?
Every night, rinse your aligners and gently brush them with your toothbrush. Rinse them again when you wake up, because plaque can form while you're sleeping. You can also use Invisalign's cleaning system or denture cleaners every few days.
With this information, you'll be able to have successful treatment and a straight, healthy smile that you'll love. If you have more questions, feel free to contact your dentist. They can address your concerns and provide specific guidance for your situation.
About the Author
At her practice, Dr. Virginia Gregory offers Invisalign treatment to patients in the Mt. Pleasant, SC area. With over 30 years of dentistry experience, she is a preferred dentist with the prestigious Las Vegas Institute, which only a few dentists in the state can claim. After hundreds of hours of continuing education courses and rigorous testing, she has earned a Fellowship with the Academy of General Dentistry. To schedule an appointment with Dr. Gregory, click here or call (843) 628-1926.