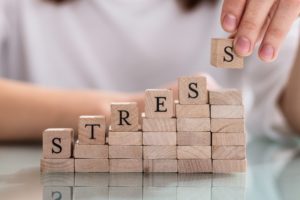 Many of us lead busy lives these days, causing stress to run rampant. You may already be aware of how poorly managed stress can affect the brain and heart, but did you know it also has an impact on your oral health in Mt. Pleasant? That's why it's important to deal with your stress or anxiety as soon as possible, so as not to cause problems. Let's take a closer look at what those problems are and how you can put a stop to them.
TMJ/Bruxism
One anxiety-driven habit that many of us have is teeth grinding, also known as bruxism. You might even have it without knowing, since a lot of us grind or clench our teeth while we sleep. If you wake up with sore teeth or a tired jaw, you might have bruxism. Over time, this can wear down the enamel on your teeth, leaving you more susceptible to sensitivity and decay. It can also aggravate the joint just under your ear, called the temporomandibular joint, or simply the TMJ.
If you put your finger just under your ear and move your jaw, you can actually feel your TMJ move. Most of the time, you don't have to worry about this joint, but frequent stress and teeth grinding can irritate it and cause serious pain in your jaw and around your face.
Gum Disease
When you're busy, flossing is usually one of the first healthy habits to fall by the wayside. However, this can be extremely detrimental to your oral health. Flossing is the only way to efficiently clean between your teeth and along your gumline. Without this habit, you're more likely to contract gum disease.
Gum disease is a serious bacterial infection in the gums and structures that support your teeth. It starts out with red and irritated gums, but it can culminate in tooth loss if you don't get it treated soon enough. In addition, chronic stress weakens your immune system, making it harder for your body to fight off this infection.
How to Reduce Your Symptoms
If you're stressed, it never hurts to talk to a medical professional, like your dentist in Mt. Pleasant. If you think you might be clenching or grinding your teeth, ask about getting a custom nightguard. This plastic tray is worn over the teeth to prevent harmful contact during sleep. It also lessens pressure placed on the TMJ.
Many people turn to smoking and alcohol to cope when they are stressed, but this can spell disaster for your oral health. Alcohol dries out your mouth, increasing your risk of tooth decay. So does smoking tobacco. Additionally, tobacco raises your risk of oral cancer and gum disease. If you need help quitting, ask your dentist or doctor for resources.
Being stressed out is detrimental to your oral health in a number of ways. If you find yourself not coping very well with stress or anxiety, talk to your dentist.
About the Author
Dr. Virginia Gregory has more than three decades of experience serving patients and providing the very best care she can. She has earned a Fellowship with the Academy of General Dentistry. To learn more about how to deal with stress and your oral health, click here or call (843) 884-8884.