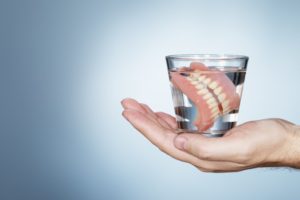 In a perfect world, everyone would keep their natural teeth for their entire life. The world is not perfect, though, so sometimes we have to replace natural teeth using methods like dentures. Fortunately, modern dentistry has come a long way in creating dentures that look and feel like natural teeth. However, you don't take care of them in quite the same way. The best way to maintain your natural teeth is through brushing, flossing, and regular checkups with your dentist. Meanwhile, the easiest way to take care of your dentures is by soaking them. Read on to learn the importance of soaking dentures.
Why Should You Soak Your Dentures?
If your dentures dry out, they could lose their shape, becoming uncomfortable because they no longer fit you properly. Thus, they have to be kept moist at all times. When they're in your mouth, this is done naturally through your saliva. But, when you take your dentures out to go to sleep, they must be placed in liquid, ideally a denture cleansing solution or water.
Keep in mind that you should NEVER put your dentures in hot water. Use lukewarm water at most. Hot water could warp the plastic and change the shape of your dentures. Just to be safe, it's best to keep them in slightly cold water.
If your dentures have metal attachments, like if they're retained by dental implants, then you might not want to place them in water. In that situation, it's best to just ask your dentist how best to clean your dentures.
How Else Can You Care for Your Dentures?
Besides keeping them wet, there are a few other ways you can keep your dentures in good condition, such as:
Be careful when handling them so as not to drop them.
Clean your dentures every day by using a toothbrush with soft bristles. Do NOT use toothpaste, as that could cause micro-cracks in the artificial teeth through which bacteria could enter and cause infection.
Visit your dentist every six months to make sure your dentures still fit correctly, and your gums and remaining teeth are in good health.
If your dentures start not fitting you properly, see your dentist. It may be time for a relining or even a new pair of dentures.
Dentures are one of the best ways to replace multiple missing teeth. Luckily, they require very little maintenance – simply follow the steps listed above and you should be good to go!
About the Author
Dr. Virginia Gregory earned her doctorate from the Medical University of South Carolina in 1985. For more than three decades, she has been providing quality care to families in the greater Charleston area. She is an LVI preferred dentist – one of the few in all of South Carolina to achieve that distinction. She has also earned a Fellowship status with the prestigious Academy of General Dentistry. Her practice offers both full and partial dentures to replace your missing teeth. To learn more, click here to contact Dr. Gregory's office.