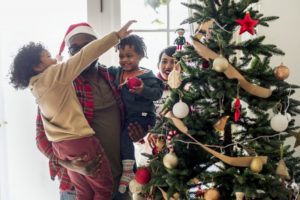 Although your dentist isn't Santa Claus, they can still tell if you've been naughty or nice over the holidays based on the results of your next routine checkup. The last thing you would want to ruin your valuable time with your family is a pesky cavity that causes dental sensitivity and even pain. Because you'll be consuming more sweets than usual, you'll want to adjust your dental hygiene routine accordingly and make sure that harmful oral bacteria aren't accumulating in your mouth. Read on for five tips on how you can keep you and your family cavity-free over the holidays.
Stick To Your Dental Hygiene Routine
Between planning and making your family dinner, decorating the house, and shopping for gifts for all of your loved ones, the holidays can be hectic. Your massive to-do list can distract your from brushing every morning and night and flossing at least once a day. Be sure to set a reminder in your phone to alot time for your dental hygiene routine instead of jumping right into wrapping up your to-do list. Starting out your day by taking care of your body can make you feel more productive and energetic. That way, you'll feel ready to tackle any remaining holiday tasks that need to be done.
Visit Your Dentist for a Checkup & Cleaning
Taking your family in for their routine checkups and cleanings is the best way to kick off or end your holiday season. You'll be able to rest assured knowing that everyone has a clean bill of health. Plus, while your children are still out of school and you have a few days off of work, it'll be easier to work around everyone's schedules and coordinate appointment times.
Watch Your Consumption of Sweets and Carbohydrates
Over the holidays, you're almost guaranteed to snack more on foods filled with sugar and carbohydrates than you normally do. Because of this, you can put yourself at an increased risk of developing cavities and oral health problems. That's why it's best to limit your consumption of these snacks and substitute healthy options, such as celery and carrots, every so often.
Don't Forget to Floss
According to a survey conducted by the Centers for Disease Control and Prevention, only about 30 percent of American adults report flossing their teeth daily. It can seem like an inconvenient and pointless part of your dental hygiene routine when in reality, it's incredibly important. Removing food debris and plaque from between your teeth can not only freshen your breath, but also reduce your risk of developing cavities.
Rinse Your Mouth With Antibacterial Mouthwash
If you know you'll be eating more of your grandma's sweets over the holidays because that's one of the few times during the year that you can enjoy them, be sure to rinse your mouth with antibacterial mouthwash every day. This can reduce the accumulation of bacteria that produce enamel-eroding acid and toxins that cause cavities and gum disease to develop.
If you have any questions or would like more recommendations on how to keep your household cavity-free over the holidays, don't hesitate to contact your dentist in Mt. Pleasant!
About the Author
Dr. Virginia Gregory has been optimizing her patients' oral health since she graduated with her dental medicine degree from the Medical University of South Carolina in 1985. She places an emphasis on providing her patients with thorough preventive dental care that helps them avoid severe oral health problems down the road. As a member of the American Academy of Cosmetic Dentistry, American Dental Association, and South Carolina Dental Association, she places an emphasis on using the latest dental technology and techniques at her practice. For questions or to schedule a routine checkup and cleaning after the holidays, visit her website or call 843-884-8884.