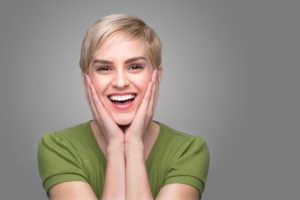 As the COVID-19 pandemic continues to spread, it's more important than ever that we do everything we can to stay healthy. While the best way to protect yourself from the coronavirus is to practice social distancing and regular hand washing, a strong immune system will help fight off infection if you do get sick. Thankfully, improving your immune system can be as simple as taking care of your smile. Read on as your Mt. Pleasant dentist explains how taking care of your oral health can be good for your whole body.
Linking Overall & Oral Health
A growing body of research reports that your oral health and overall wellbeing have a significant influence on each other. For example, studies indicate that 90% of systemic, whole-body conditions present symptoms in the mouth. Issues like swollen gums, dry mouth, and halitosis could be early warning signs of health concerns like diabetes, pancreatic cancer, or kidney disease.
Similarly, experts are discovering that an unhealthy mouth can impact the rest of the body. Poor oral health has been linked to respiratory infection, rheumatoid arthritis, memory loss, and heart disease. Studies show that these are caused by unchecked oral bacteria and a prolonged inflammatory response.
Connecting Oral Hygiene & The Immune System
Your mouth naturally contains a variety of bacteria that's kept in check with great oral hygiene. However, if the bacteria grow out of control, they can cause tooth decay, gum disease, and even spread throughout the rest of the body. Your immune system will react to the bacterial infection with an inflammatory response, which can be beneficial in the short run. However, a combination of prolonged inflammation and widespread bacteria weakens your immune system, leaving you more susceptible to viruses like COVID-19.
Tips for Staying Healthy
Thankfully, you can protect your oral health and keep your immune system strong with a few healthy habits, like:
Brushing your teeth for two minutes twice a day and flossing daily.
Keeping your toothbrush clean by not sharing it or storing it in a closed container.
Eating nutritious foods, especially items high in vitamin C.
Drinking plenty of water and kicking bad habits like using tobacco products.
Washing your hands regularly, wearing a face mask in crowds, and practicing social distancing.
Now more than ever, it's important to pay attention to your immune system and your oral health. When you take care of your smile with these simple but effective tips, your whole body will thank you.
About the Author
In response to the COVID-19 pandemic, Mt. Pleasant Mayor Will Haynie has issued a "Home or Work" order that will go into place at 5pm on April 7th, 2020. After much consideration, Dr. Virginia L. Gregory has decided to close her office until further notice for the health and safety of her patients, staff, and their families. Since routine dental checkups and preventive care may not be available for some time, she highly encourages practicing great oral hygiene and excellent dental habits. If you have any concerns or questions, feel free to contact her via her website or at (843) 884-8884.