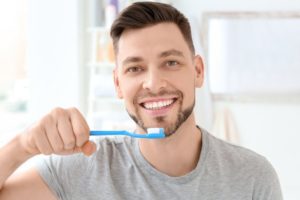 If you're in the habit of seeing your dentist regularly, you may be worried about your oral health during COVID-19. While your dentist is closed, there is no need to be anxious about your smile! Your dentist has provided some easy steps you can take to prevent oral health issues from occurring during this uncertain time. Keep reading to see just how easy it is to keep your smile healthy and happy even while quarantined.
Brush Brush Brush
Healthy teeth at home all starts with a good brushing routine. Be sure to brush your smile twice a day for two minutes each session. You should also make sure you're brushing the gumline to remove plaque and bacteria that can cause infection. If you struggle brushing, try using an electric toothbrush for more effective cleaning.
Don't forget to Floss
Flossing is just as important as brushing, so don't forget this integral part of your routine. Floss in between your teeth to remove lingering food debris and plaque. This lowers your risk of decay on the sides of your teeth, and it decreases your chance of gum disease.
Avoid Constant Snacking
It's easy to turn to all of your favorite snacks during this time at home, but constant eating can damage your oral health. When you don't give your mouth a break in between meals, you don't get the same saliva flow that helps wash away plaque and bacteria. This leaves your teeth and gums more susceptible to problems like cavities and infection. You should especially watch out for sugary foods that coat your teeth. Soda, caramel, and other sweets can stay in contact with your teeth for long periods of time, increasing your risk of decay.
Drink Lots of Water
Water should be the most popular food/drink in your household! It not only keeps you hydrated, but it helps to stimulate your saliva flow and get rid of unwanted debris in the mouth. Plus, most tap water contains fluoride, which is a cavity-fighting mineral that helps strengthen teeth.
Safeguard Your Smile
While your dentist is closed, it's best to do all you can to keep your smile safe. This means avoiding using your teeth for anything other than eating and speaking. This includes avoiding habits like biting your nails or chewing on ice cubes. Additionally, even if you're at home, wear a mouthguard if you're going to participate in physical activity to prevent dental injury.
At-home oral healthcare doesn't have to be hard! Just use these simple yet useful tips to keep your smile in check even during the outbreak of COVID-19.
Meet the Dentist
Dr. Virginia Gregory is an experienced dentist who wants her patients to have all of the information they need to stay safe during this time. While she has closed her doors due to the Coronavirus, Dr. Gregory is still available for dental emergencies. If you have any questions, please don't hesitate to contact her through her website or by phone at (843) 884-8884.