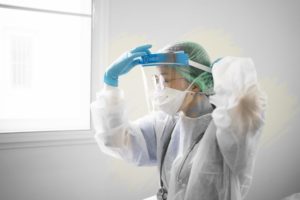 For the past couple of months, you've been diligently adhering to the CDC's recommended social distancing guidelines and staying home as much as you can. One day, one of your teeth starts hurting seemingly out of nowhere. You think you might have a cavity, but you're a bit apprehensive to visit your dentist. Is it safe? Absolutely! Rest assured that your dentist follows dental safety protocol by wearing much more PPE than they did before the pandemic struck. Keep reading to learn what PPE is and how your dental team wears it to prevent infection.
What Is PPE?
Personal protective equipment, or PPE, is a category of protective gear that healthcare professionals wear in order to keep themselves and their patients safe from germs. Some common examples of PPE that your dentist might wear include surgical masks, face shields, shoe coverings, and surgical gowns. These items help prevent dangerous pathogens from directly entering the body and causing harm.
When Is PPE Necessary?
Your dentist and their clinical team will wear PPE whenever they are treating a patient, particularly if dental aerosols will be produced. Dental aerosols are particles that are released from a patient's mouth whenever certain dental tools are used. These particles may consist of blood, saliva, and any germs that the patient is carrying. They can remain in the air for several minutes or even a few hours before settling on the ground. During this time, any germs in the aerosols could infect the dental team as well as patients who come in after you. As a result, PPE is necessary to prevent germ transmission.
How Exactly Should Your Dental Team Wear PPE?
There are multiple recommended sequences when it comes to wearing PPE, some of which include:
Before Entering a Treatment Area
Prior to treating you, your dentist will:
Wash their hands
Don a clean gown that covers their clothing and any skin that is likely to be exposed to saliva, blood, and other potential infectious substances
Put on a surgical mask or respirator
Put on eye protection
Wash their hands again
Put on a pair of clean gloves
Enter the treatment room
After Completion of Dental Care
Once your procedure is complete, your dentist's team should follow this protocol:
Take off gloves
Remove their gown or protective clothing
Exit the treatment area
Wash their hands
Remove their eye protection
Remove and dispose of their surgical mask or respirator
Wash their hands again
There is nothing that your dentist takes more seriously than their patients' health and safety. As a result, you can trust they follow recommended dental safety protocol to a T. If you find yourself with a toothache or another problem that warrants dental care, you can rest easy knowing that you should be safe from infection at your dentist's office.
About the Author
Dr. Virginia Gregory earned her Doctor of Dental Medicine degree from the Medical University of South Carolina in 1985. She has been providing excellent and comfortable dental care to the Charleston area for 32 years and counting. After hundreds of hours of post-graduate education and rigorous testing, she has achieved a Fellowship with the Academy of General Dentistry. Every member of her clinical team wears plenty of PPE to keep themselves and you safe. To learn more, visit her website or call (843) 884-8884.