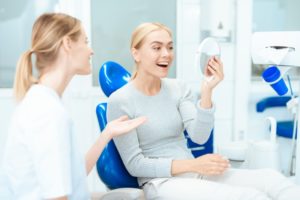 You have dreamed of a picture-perfect smile for a while now and finally decided to make that dream a reality! Now it's time for the next important choice: the cosmetic dentist. Investing in your smile is important and you want to find the best one for your dental goals. Here are some helpful tips to guide you to the best cosmetic dentist for your custom smile.
Tip #1: Ask Around
Recommendations are the best place to start. Check with your family and friends who have been satisfied with an elective procedure they have received from a local cosmetic dentist. If they are pleased with the results, had a good experience, and felt comfortable with the dentist and their staff…that is a great sign!
Tip #2: Peep the Photos
The proof is always in the pudding. Read reviews and pay particular attention to the ones with pictures. Many experienced cosmetic dentists will have a gallery of photos available on their website or in their office. Before and after pictures are always helpful. This will give you an idea of the dentist's skills and results.
Tip #3: Check Their Credentials
It is important to review the dentist's training to ensure they've completed the required qualifications in cosmetic treatments. Choosing one that regularly continues their education ensures they will be up to date in the latest procedures and techniques. In addition, you can check their professional memberships. A dentist that is a member of the American Academy of Cosmetic Dentistry or the American Dental Association would be an excellent choice.
Tip #4: Meet Them for a Consultation
Research and reviews are extremely helpful, but there is nothing like getting first-hand experience by visiting the dentist in person! Schedule a consultation with prospective choices and be prepared with questions. What would the treatment plan be? What technologies do they use? What will the procedure entail? What's the expected time of recovery? What are the payment options? Be sure you feel comfortable enough around them to ask questions, and that the dentist listens to your needs and wants.
That dream smile is now closer to reality. With these helpful tips, you will find the ideal cosmetic dentist so you can seal the deal for your bright future!
About the Author
Dr. Virginia Gregory and her team at Smile Carolina Dental Group are eager to help you achieve your dream smile! She received her Doctor of Dental Medicine from the Medical University of South Carolina and is an active member of the American Academy of Cosmetic Dentistry. With almost 35 years of experience, she offers a comprehensive range of cosmetic dental treatments and procedures. To schedule a consultation, contact her through her website or call (843) 884-8884.