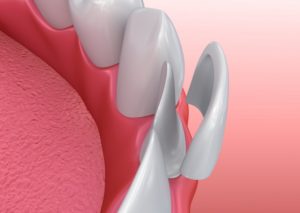 Think of all the reasons your grandmother was a joy to visit. Remember the reasons why your favorite childhood pet was so special. Don't forget the many reasons why Brussels sprouts are so fantastic…
Oops, might have lost you with that last one, but you get the idea. When you are considering the options to improve your smile, veneers from your cosmetic dentist present a convincing case to be the chosen one. Keep reading for a rundown of the benefits of porcelain veneers in Mount Pleasant to see if they can deliver what you're looking for.
Veneers are an Investment Worth Making
Porcelain veneers can benefit your smile and oral health in many ways, so they are worth every penny. You are buying a ticket to a long-lasting, beautiful smile.
Veneers are a Viable Treatment for Enamel Loss
If your tooth enamel does get worn away, it never comes back. Veneers offer a durable way to replace enamel that is also aesthetically pleasing.
Maintaining Your Veneers is Easy
Care for your veneers just as you would for your normal teeth. You should brush twice a day and floss at least once daily. Schedule regular dental checkups to maintain your white smile.
Veneers are Durable
Because veneers are nonporous, they resist stains and cavities better than your natural, porous enamel. Coffee and cigarettes won't wreak havoc on the color of your veneers as they do on your natural teeth. With proper maintenance, a dental veneer can last 15 years.
Getting Veneers is a Minimally Invasive Procedure
The dentist removes a half-millimeter off the front surface of the treated teeth, and then each veneer overlay is placed using dental cement. The dentist may make small adjustments to the size or color of the veneers as needed when they are placed for the best result. Patients require little-to-no anesthesia.
Dental Veneers Provide a Natural Appearance
The process for getting veneers may take more than one appointment, but the end result looks incredibly natural. When your veneers arrive from the lab, your dentist adheres each overlay precisely to create a winning smile. The design is customized to be a fit for your facial symmetry.
Veneers Offer Easy Cosmetic Tooth Repair
Custom-made for each patient to look as attractive as possible, veneers do not stain easily. If you are looking to fix major cosmetic problems with your smile, they are a great option. Consider veneers for teeth that are chipped, have gaps, are misshapen, or are discolored.
Porcelain veneers are a permanent dental commitment you need to be confident in, but it's reassuring to realize the long-term benefits they can provide. Talk with your cosmetic dentist in Mount Pleasant and make sure you have all the facts before saying yes to a fabulous smile!
About the Author
Dr. Virginia Gregory has been working hard to bring comfortable, high-quality dentistry to families in the Mount Pleasant area for more than three decades. She earned her dental doctorate from South Carolina University and she's attended the world-renowned Las Vegas Institute for Advanced Dental Studies, completing their extensive post-graduate coursework and even becoming an LVI-preferred dentist, which is a distinction that few dentists in South Carolina have achieved. If you are interested in veneers, Dr. Gregory offers porcelain veneers and you can also ask about no-prep veneers. The first step is a consultation, which you can schedule on her website or by calling (843) 884-8884.