Veneers – Mount Pleasant, SC
Completely
Transform
Your Smile
When you envision your perfect smile, you probably don't imagine any chips, stains, noticeable spaces, or crooked teeth. All of these imperfections can hurt your self-esteem when it comes to the appearance of your teeth, but luckily, we can address all of these issues at once with the right cosmetic treatment. Are you looking to make some extensive changes to your smile? Set up a cosmetic consultation with Dr. Gregory today and learn how we can use porcelain veneers from our Mt. Pleasant, SC cosmetic dentist to make the smile improvements you want.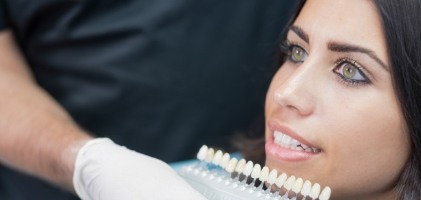 Why Choose Virginia Gregory, DMD for Veneers?
Dental Porcelain and Composite Available
Dentist with Decades of Experience
State-of-the-Art Dental
Technology
Veneers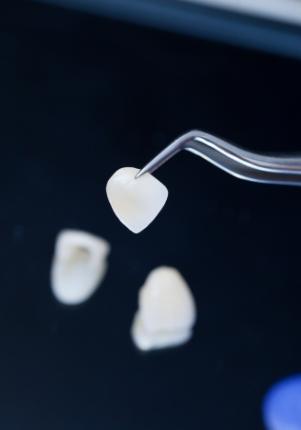 Since they need to resemble real teeth as much as possible, veneers are made out of high-quality dental porcelain. They fit in place over one or more natural teeth, correcting several cosmetic flaws at once for a comprehensive, confident result. They're also highly durable and resist staining more successfully than tooth enamel! With proper care and maintenance, porcelain veneers can last for decades. In certain situations, Dr. Gregory may also recommend no-prep veneers, which are more cost-effective and can be placed on a quicker timeframe.
The Veneer Process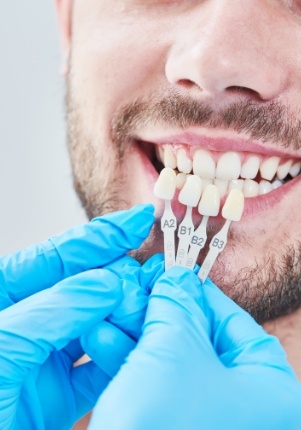 Getting veneers is as easy as three easy steps! First, you'll come in and we take records to get things ready for the second appointment. During the second appointment, we'll do the necessary preparation of the teeth so that they can accept the veneers. On the third visit, we'll deliver the veneers. It's that easy!
Benefits of Veneers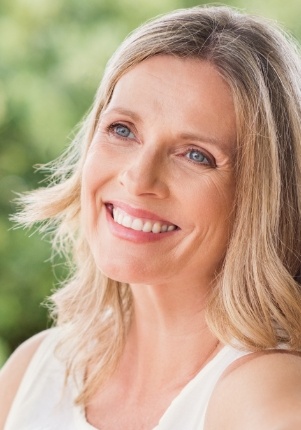 Veneers are extremely versatile when compared to other cosmetic treatments. Solutions such as teeth whitening and Invisalign are designed to address very specific problems, but veneers can be the ideal solution for getting rid of permanent stains, dental damage, minor gaps, and other issues simultaneously. Also, if you choose porcelain veneers, then your smile will be more stain resistant as a result. Porcelain is created with a smooth and glossy finish and doesn't stain at all.
Are Veneers Right for You?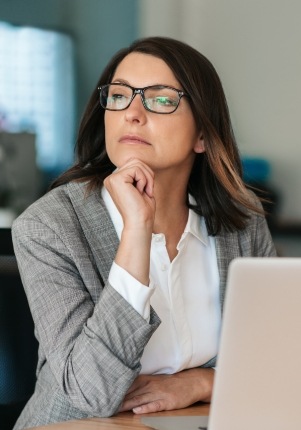 If you don't like your smile, veneers can give you total confidence in your smile and presentation. With veneers, Dr. Gregory can create a perfect smile design for you and brighten your smile to any shade you choose. With proper care, veneers can last 20 years or more! Don't live a life hiding your smile or covering your teeth. With veneers, Dr. Gregory can change your life.
Veneers FAQs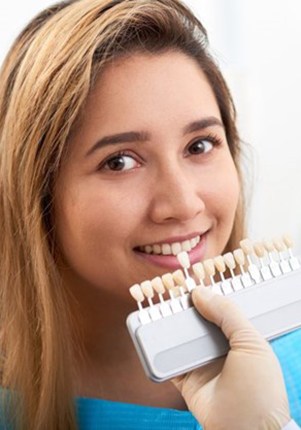 If you're not 100% satisfied with the teeth you see smiling back at you in the mirror, veneers are a great way to change that. Even if you're ready to transform your pearly whites and boost your confidence with this versatile treatment, you might still have a few questions before you're ready to fully commit to getting veneers. With that in mind, we've included the answers to a handful of frequently asked questions about veneers below.
How many veneers will I need?
It's possible to receive a veneer on a single tooth if it has a significant flaw and you're fine with the way that the rest of your teeth look. However, Dr. Gregory highly recommends getting an even number of veneers. In her decades of experience as a cosmetic dentist in Mount Pleasant, she has noticed that patients are generally more satisfied with their results when they receive enough veneers to cover all of the teeth that are noticeable in the smile. Most patients require six or eight veneers to meet this goal, while some may need as many as 10 or 12. Dr. Gregory will discuss your concerns and evaluate your grin to determine the ideal number of veneers you need to make your dream smile within reach.
Is there anyone who shouldn't get veneers?
As versatile as the treatment is, not everyone makes a good candidate for veneers. Certain issues can interfere with the veneers process:
If the tooth in question is suffering from decay or other structural damage, it should not have a veneer placed on it until the problem is treated. Otherwise, the issue could worsen underneath the veneer and become more difficult to treat.
If the gums are swollen or bleeding due to gum disease, the impressions won't be accurate, and the veneers won't fit correctly. Receding gums could also expose the veneer's margins.
Bruxism (chronic teeth grinding) should be addressed before placing veneers, as the force could cause the veneers to crack, weaken, or fall off.
How long do veneers last?
The average lifespan of veneers in Mount Pleasant is 10 to 15 years, but they can last for 20+ years with excellent oral health and hygiene. Veneer failure most often occurs as a result of the underlying tooth becoming weak, fractured, or decayed. In order for your veneers to last as long as possible, the teeth supporting them must remain strong and healthy. To that end, avoid biting down on hard objects and grinding your teeth. Also, make sure to regularly brush, floss, and visit Dr. Gregory for checkups!
Is it painful to get veneers?
Typically, we'll numb your mouth before placing veneers, so you shouldn't have to worry about pain during the procedure. You may, however, experience mild sensitivity and/or soreness for a few days after your veneers are placed, particularly if you received a large number of veneers at the same time. Keep in mind that this discomfort is only temporary. Until it subsides, take over-the-counter pain relievers like ibuprofen as needed.
Come In • Meet Dr. Gregory • Put Together a Plan
Complimentary
Smile Makeover Consultation
Redeem Offer