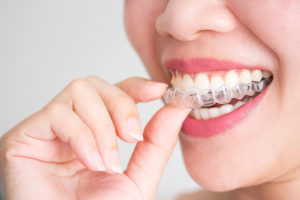 Although reliable, traditional metal braces can often feel like a ball and chain. From uncomfortable metal brackets to frequent appointments, there are plenty of downsides to this type of orthodontic treatment. In contrast, Invisalign clear braces provide many unique freedoms while you straighten your smile. Are you unhappy with the alignment of your teeth but don't want to wear metal braces? Keep reading to learn more about the freedoms of Invisalign in Mount Pleasant.
Eat Your Favorite Foods
Patients who wear traditional braces have to adjust their diets to avoid accidentally damaging their brackets and wires. Thankfully, you can continue to eat all your favorite foods while undergoing Invisalign treatment! All you have to do is remove your aligners before you eat and store them safely in their case. When you're finished eating, just brush, floss, and pop your aligners back in. It's that simple!
Freedom to Floss
The ability to remove Invisalign aligners also makes it easier to maintain a healthy smile. If you've worn metal braces in the past, then you know how difficult it can be to floss with them. You either have to carefully string the floss between each wire or use special cleaning tools that come at an additional cost. Flossing is incredibly simple with Invisalign – all you have to do is take them out first!
Increased Comfort
Invisalign typically does not apply as much pressure on teeth as normal braces do. For this reason, many people find Invisalign to be more comfortable than traditional orthodontic treatment. When you first start wearing a new set of aligners, you will likely feel some temporary soreness. However, any discomfort should be mild and will fade as your mouth adjusts.
Socialize Relaxed
Many people feel self-conscious about their smiles while wearing traditional braces. After all, the metal wires and brackets are highly noticeable. One of the biggest advantages of Invisalign is the fact that the aligners are virtually invisible. This is especially important for working adults who want to maintain a professional appearance. Invisalign clear braces are so discreet that no one will likely even know you have them unless you share the secret yourself.   
Smiling Freedom
You can more easily observe your smile dreams become reality when wearing Invisalign clear braces. There are no metal brackets or wires to get in the way. Instead, you can enjoy the small improvements that your smile is making every single day.
While some severe misalignment issues require traditional orthodontics, many crooked, crowded, or gapped smiles can be corrected with Invisalign. Talk to your cosmetic dentist in Mount Pleasant to learn if you could straighten your smile while enjoying the freedoms of clear braces.
About the Author
Dr. Virginia Gregory has over three decades of experience helping patients achieve the straight smiles of their dreams. An active member of the American Academy of Cosmetic Dentistry, she regularly oversees Invisalign treatment at her private practice. To learn more about the freedoms of Invisalign in Mount Pleasant, visit the Smile Carolina Dental Group website or call 843-884-8884.