Invisalign Clear Aligners – Mount Pleasant, SC
Straighter
Smiles
Without Braces
Perfectly straight teeth have a lot of benefits. They make a stronger impression, they improve the overall functionality of the mouth, and they're easier to clean. But while plenty of people wish they could have a straighter smile, many are reluctant to wear braces to accomplish this goal. Dr. Gregory offers Invisalign clear braces as a cosmetic alternative for orthodontic treatment. If you're interested in a more subtle to correct the alignment of your bite, call us today to learn more about Invisalign clear aligners in Mt. Pleasant, SC.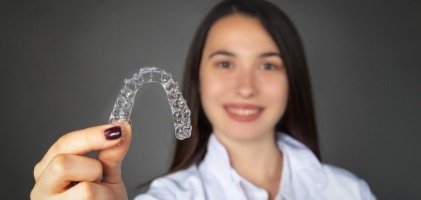 Why Choose Virginia Gregory, DMD for Invisalign Clear Aligners?
Experienced,
Caring Cosmetic
Dentist
Dental Office with State-of-the-Art Technology
Comfortable
Alternative
to Braces
How Does Invisalign Work?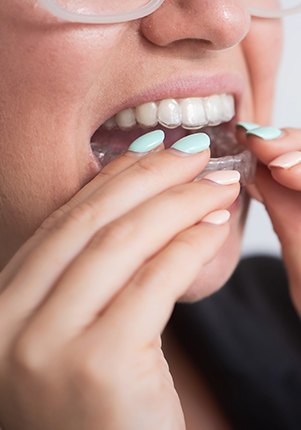 Almost everyone is familiar with traditional braces and how they work. Metal brackets are attached to the teeth, and wires are used to exert pressure on them, effectively pushing the teeth towards a more ideal position. Invisalign also uses pressure to move the teeth, but instead of brackets and wires, it comes in the form of clear plastic alignment trays. The trays are made based on impressions of your smile, and each one is designed for a different stage of the treatment. Each set of aligners is worn for 7-10 days before you switch to a new one. Invisalign doesn't have to be adjusted the same way braces do, but you will still need to have a checkup every six to eight weeks so that we can make sure the treatment is going as planned and make adjustments as needed.
How Long Does Invisalign Take?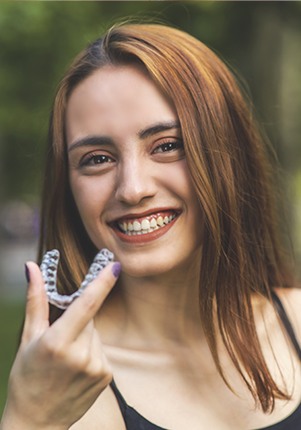 The answer to this question will vary depending on the circumstances. Most of the time, Invisalign treatment for adults takes about 3 to 12 months. Minor changes to tooth position or spacing can be made in a relatively short amount of time. By contrast, relatively complex issues – such as correcting an underbite, overbite, or crossbite – will require a lengthier treatment plan. The average Invisalign treatment takes around 6 to 8 months. Note that in general, this type of orthodontic treatment takes less time than braces, which sometimes need to be worn as long as 2 to 3 years.
Benefits of Invisalign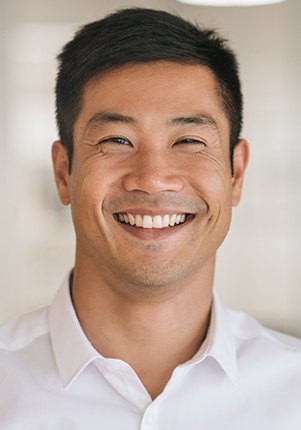 An Invisible Appearance: True to their name, Invisalign aligners practically disappear when worn on their teeth. Thanks to their completely clear nature, most people won't notice them unless they are actively looking for them in the first place. This makes them a great choice for teens and young adults who are worried about appearances.
Comfort: Invisalign trays are made of smooth plastic, which is gentler on the gums than metal brackets or wires. You also won't have to worry about sharp or protruding edges poking into the soft tissues of your mouth.
Improved Hygiene: You can pop out Invisalign aligners in order to clean them, and you can brush and floss without having to work around brackets or wires.
Removable: While you need to keep Invisalign in for at least 22 hours each day, the trays can be removed, letting you enjoy the convenience of eating whatever you want. You can also take out Invisalign for special occasions as long as you put the trays back in immediately afterwards.
Understanding the Cost of Invisalign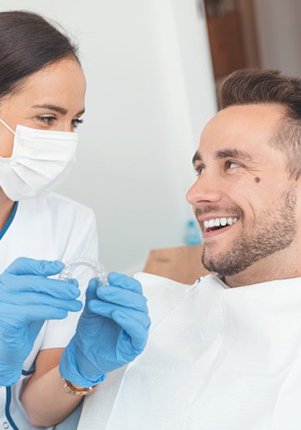 There actually isn't a set cost of Invisalign in Mount Pleasant. After all, the treatment is so customized because no two smiles are alike. As a result, the price can vary dramatically from one patient to the next. During your consultation, Dr. Gregory will go over the factors affecting your treatment costs and answer any questions you may have about the process. From there, we can go over financing options to make straightening your smile affordable. For now, read on to learn some essential information about the cost of Invisalign.
Factors That Affect the Cost of Invisalign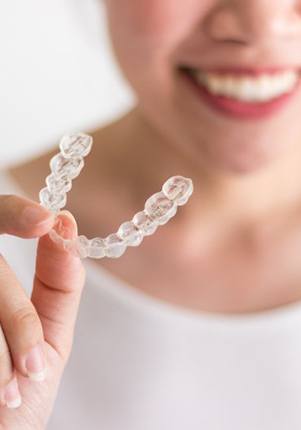 The personalized nature of Invisalign in Mount Pleasant means that you're very unlikely to pay the exact same amount for treatment as your friend or family member. Too many factors come into play for us to be able to give you a cost estimate without having Dr. Gregory examine your smile during a consultation. During this appointment, she'll create an estimate by considering a few questions, such as:
Will you need to wear aligners on your upper arch, lower arch, or both? Most patients need to wear them on both arches, but if you only require one, you can save money by not having to use as many aligners.
How severely are your teeth misaligned? Addressing minor orthodontic issues like a small gap between the front teeth is simpler and less expensive than correcting a serious overbite, for example.
How long will your treatment last? The longer it takes to shift your teeth, the more aligners you'll need to wear, which increases your treatment cost. Additionally, if you don't wear the trays as often as directed, your teeth won't move as quickly, extending your treatment timeline.
Invisalign vs. Smile Direct Club™: Which Costs More?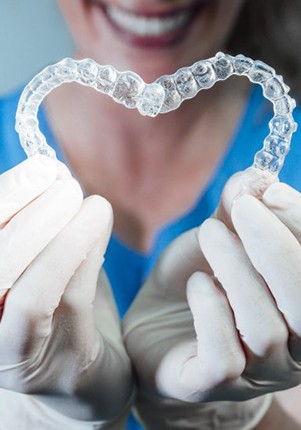 Smile Direct Club and other "do-it-yourself" clear aligner kits seem tempting. They allow you to make your own aligners and straighten your teeth without ever stepping into a dentist's office. Plus, their price is usually only a fraction of that of Invisalign.
As enticing as DIY aligners might appear, you should be aware that this option comes with several risks:
You'll be responsible for taking your own impressions of your teeth using their materials and guidelines. While this may not sound challenging, these impressions must be 100% precise, as they will be used to craft your aligners. If the impressions are even slightly inaccurate, the aligners might end up shifting your teeth in ways that could be unattractive at best and unhealthy at worst.
Your progress will not be monitored by a dental professional. While it may sound convenient that you don't have to attend checkups every few weeks, it also means that issues in your treatment cannot be detected and addressed early on.
If a problem arises during your treatment, you won't be able to directly call someone for help. Chances are you'll have to deal with a customer support rep who doesn't have the expertise necessary to help you. With Invisalign, you can call our practice and seek help right away if you need it.
Yes, Invisalign costs more than Smile Direct Club and the like. However, by choosing to visit an Invisalign dentist in Mount Pleasant, your treatment will be safer and smoother. You can count on us to create accurate aligners and be with you every step of the way toward your dream smile!
Making Invisalign Affordable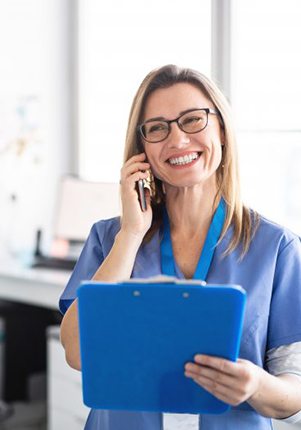 If you need assistance fitting the cost of Invisalign into your budget, our team is here to help! We work closely with CareCredit, a third-party financing company that can break up your treatment costs into easily managed monthly installments. If you qualify for one of their many flexible payment plans, you can also look forward to very low or even no interest rates!
Invisalign FAQs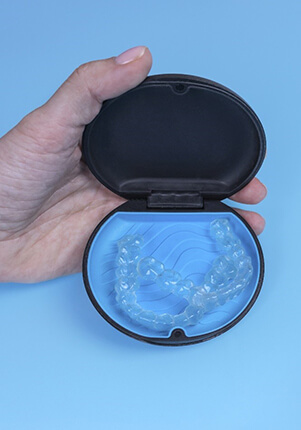 You don't need to put up with a mouthful of metal brackets and wires to straighten your smile. Invisalign is an excellent way to work towards perfect alignment. However, it pays to be well informed about the treatment before committing to it. Here are the answers to some of the most common questions we are asked about Invisalign in Mount Pleasant. If you don't see the information that you're looking for below, don't worry! Give us a call and we'd be more than happy to answer your questions and schedule you for your initial consultation.
Does Invisalign Hurt?
Invisalign isn't a painful treatment. Its smooth plastic design makes it one of the most comfortable orthodontic treatment options out there. When you first get Invisalign, you may experience slight soreness or discomfort that some may characterize as pain, but this will subside as you get used to the treatment. Invisalign works by gradually shifting your teeth into proper alignment with a series of aligners, so every time you switch to a new set, you may experience a small amount of pressure. This just shows that your treatment is working! To manage any discomfort, try using over-the-counter pain relievers and a cold compress.
Can You Eat with Invisalign?
One of the main advantages of Invisalign is that they are completely removeable, so you can take out your aligners when mealtime comes around. Eating with your Invisalign will not only damage your aligners by causing cracks and stains, but it will also put unnecessary pressure on your teeth. The only item you should consume when you wear your Invisalign is water. Otherwise, you should take out your aligners and store them in a safe place.
How Do I Clean My Invisalign?
Invisalign sells their own Invisalign cleaning system, which is specifically designed for maintaining your clear aligners. It utilizes cleaning crystals that help to remove food debris and plaque. Another way to clean your aligners is by using a soft-bristled toothbrush to gently brush particles away. Invisalign should be rinsed throughout the day to prevent food from sticking to it. You should never use hot water because it can permanently warp the plastic. Before you put your aligners in, always give your teeth a brush and floss so you don't accidentally trap anything between your teeth and aligners.
Can You Get Invisalign After Braces?
This all depends on your specific needs. If your teeth have become misaligned or crooked years after you have completed treatment with braces, Invisalign is usually able to help. However, there are some misalignment issues that are too complex for Invisalign to correct on its own. Traditional braces are better able to address more severe overbites, underbites, and crossbites that Invisalign cannot. During your initial consultation, it will be determined whether or not Invisalign is the best solution for your smile.
Come In • Meet Dr. Gregory • Put Together a Plan
Complimentary
Smile Makeover Consultation
Redeem Offer