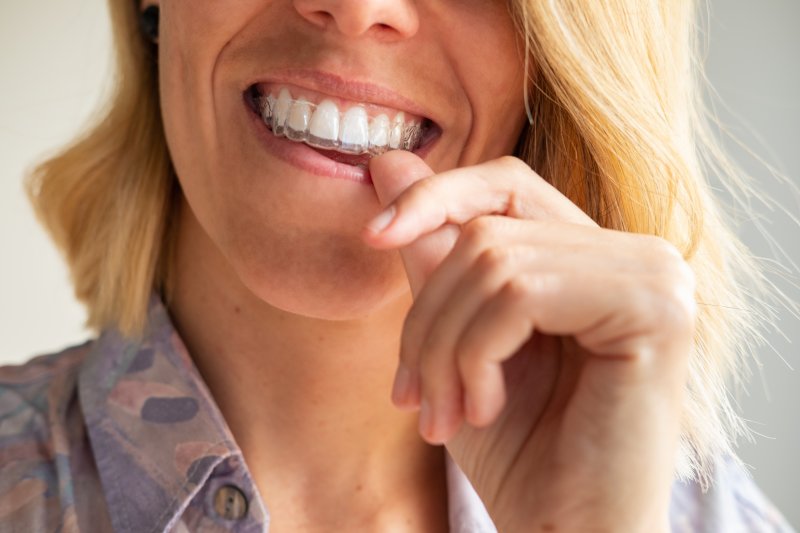 Invisalign is one of the most popular orthodontic treatments, and for good reason. It can often offer the same results as traditional braces in less time, with no dietary restrictions, and so discreetly that most people won't even be able to tell you're wearing your aligners.
That said, there are some adults that could benefit from Invisalign treatment but think that they're too old for it to be effective. If that's you, here's a little bit more information that could be helpful.
Am I Too Old for Invisalign?
Some adults worry that their adult teeth aren't mobile enough for Invisalign treatment, but that just isn't true! Invisalign treatment is effective for people of all ages. In fact, some of Invisalign's most popular clients are adults who have had braces previously but have seen their teeth fall out of alignment.
How Does Invisalign Work?
No matter your age, the core principles of Invisalign work the same way. Your dentist takes a 3-D scan of what your teeth look like now and, using advanced software, creates a model of your perfect smile. They'll then use this software to design a series of plastic aligners. These aligners will put pressure on your teeth, causing them to move into place. The entire treatment usually takes a little less than a year to get results!
Who's a Good Candidate for Invisalign?
These little plastic trays may seem simple, but they're capable of fixing a wide variety of issues. Many times, Invisalign can be paired with other attachments that dramatically increase what they're capable of. That said Invisalign trays are best suited to handling smaller alignment issues; as was mentioned before, they're particularly adept at realigning the smiles of people who have had braces previously. Additionally, people with dental implants or TMJ disorder might be bad candidates for Invisalign.
If you're interested in straighter teeth, you shouldn't let age stop you. No matter what stage you're at in your life, Invisalign treatment can give you a smile you can be proud of.
About the Author
For over 30 years, Dr. Virginia Gregory has offered her cosmetic dental patients the absolute best that dentistry has to offer. She believes that everyone deserves to have an immaculate smile, so she works hard to offer the people she sees the latest in oral medicine. Dr. Gregory is a graduate of the Medical University of South Carolina. She's also attended the prestigious Las Vegas Institute for Advanced Dental Studies, and has been recognized as an LVI-preferred dentist. If you have any questions about getting Invisalign as an adult, she can be reached at her website or by phone at (843) 884-8884.