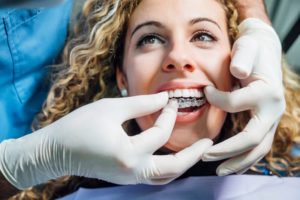 Modern technology has made it more convenient than ever to achieve the straighter smile you've always wanted. Thanks to Invisalign, you no longer have to endure the metal brackets and wires of traditional braces. This orthodontic treatment offers a discreet, comfortable, and convenient way to align your teeth with clear, removable aligners. However, you may be concerned if the treatment would still work for you since you grind your teeth. Your dentist in Mt. Pleasant is here to tell you what you need to know about Invisalign and bruxism (teeth grinding).
First Things First: How Does Invisalign Work?
Invisalign uses a series of clear aligners to move your pearly whites gently and effectively into their desired position. Generally, a patient will wear a pair of aligners for about two weeks and then move to the next set. Your teeth are moved into place with each set over time. While you can remove the aligners to eat and drink, you must wear them for at least 22 hours a day. Invisalign appeals to so many people because it is barely noticeable and allows you to still eat your favorite foods!
Can You Still Get Invisalign if You Grind Your Teeth?
In short, yes you can!
Bruxism (teeth grinding) is a condition where a person places undue stress on their teeth by pushing them against each other. It occurs mostly while you sleep, resulting in possible dental damage. Grinding your teeth at night can exert up to 250 pounds of force! Over time, your tooth enamel can be worn down and damaged. Many people are concerned that their Invisalign aligners will also be harmed due to their bruxism. While they are made from a special, flexible plastic material, they are still able to withstand the pressures of teeth grinding.
However, there is a chance your bruxism will wear your aligners down faster, but it is generally not a big deal! Since you are typically given a set of aligners to wear for two or so weeks, it is more than likely the teeth grinding won't severely impact your aligners before it's time to switch to your next set. If your aligners do happen to get damaged, your dentist can simply order a replacement set for you.
In reality, your clear aligners will actually serve as a barrier against potential damage caused to your teeth by bruxism, just like a nightguard would. So, if you already wore an oral appliance at night to protect your smile before your treatment, you won't have to worry about your teeth becoming more affected by your teeth grinding.
Invisalign can transform your smile, even if you suffer from teeth grinding. By being consistent with your treatment and visiting your dentist on a regular basis, your condition won't interfere with your journey to straighter teeth!
About the Author
Dr. Virginia Gregory and her team at Smile Carolina Dental Group keep the smiles of Mt. Pleasant healthy and beautiful! She received her Doctor of Dental Medicine from the Medical University of South Carolina, as well as earned a Fellowship with the Academy of General Dentistry. With almost 35 years of experience, as well as being an active member of the American Academy of Cosmetic Dentistry, she can successfully help you achieve your smile goals with Invisalign. To schedule an appointment, contact her through her website or call (843) 884-8884.