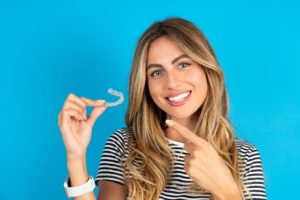 Summer is here with its usual fanfare of family barbecues, vacations, and trips abroad. With school out of session and time off from work, you can finally hang up your proverbial hat and enjoy a well-earned reprieve from your usual responsibilities. You might not even be considering your dental care right now but there are many benefits to initiating dental treatments, like Invisalign, during these long, lazy days.
Invisalign is a popular substitution for metal braces and addresses overcrowding, bite issues, gaps, and crooked teeth. It is comprised of clear plastic and fits over your teeth to gently reposition them, almost like a retainer. If you have been considering this option, continue reading to find out why summer is an ideal time to get started!
Favorite Foods
Traditional braces come with plenty of dietary restrictions because hard or sticky foods can snap or damage the brittle, stainless-steel brackets. With Invisalign you can feel free to partake in all of your favorite seasonal treats! Simply remove the trays while you eat or drink, then rinse and replace them when you have finished. Nothing is considered "off the menu!"
Flexibility
Summer tends to be when we take a break from our usual routines, and that means you have more availability to arrange the appointments necessary to be fitted with Invisalign. After you've received your first set, you can plan to see your dentist every six weeks to check your progress and switch to the next set. Take advantage of your freedom while you have it and book your appointments without the anxiety that comes with missing school or work.
Timing
Another benefit of a flexible schedule is that you'll adjust to your Invisalign trays before things pick up again. You won't have to feel self-conscious about speaking with them in or cleaning them during the day, for example, because you'll already have learned how to do so effectively on your own at home.
Not only that, but you'll also see improvements to your teeth before your usual activities resume in a few weeks. These clear braces act much more quickly than the traditional alternative, which take years to work their magic. Instead, you will notice visible results after six weeks of treatment, and likely will complete treatment altogether after 12 to 18 months. Begin now and you can wrap up before next summer!
With so many benefits, why wait? Take advantage of the dog days of summer so you can show off a perfect smile this fall!
About the Author
Dr. Virginia Gregory has provided comfort to families across the Charleston community for over 32 years. She earned her Bachelor of Science in Dental Hygiene from the University of North Carolina Chapel Hill, then completed her Doctor of Dental Medicine from the Medical University of South Carolina in 1985. If you would like a complimentary Invisalign consultation, you are welcome to make an appointment online or by calling (843) 884-8884.