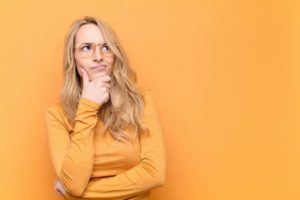 Are you unhappy with your smile? Thanks to cosmetic dentistry, there are now many ways you can achieve your dream look. Invisalign and veneers are two excellent options that can help correct and improve the appearance of your teeth. However, each treatment enables you to upgrade your smile in different ways. If you need help determining the right one for you, continue reading as your cosmetic dentist explains the difference between Invisalign and veneers in Mount Pleasant.
Veneers
These ultra-thin sheaths of porcelain are bonded to the front of teeth, instantly improving their appearance. Veneers can address a range of issues, including severe discoloration, cracks, chips, gaps, and misalignment. In as little as two appointments with your cosmetic dentist in Mount Pleasant, you can enjoy a stunning new grin!
Benefits
Veneers offer substantial benefits to patients, including:
Ability to treat a wide range of concerns
Long-lasting solution
Protect eroded teeth from further erosion
Instant boost of confidence
The Ideal Candidate
If you have good oral health and a sufficient amount of enamel, you may be a candidate for veneers. They're a great option for fully grown adults who want to improve the appearance of their smiles. Since a veneer is attached to the front of a tooth, the tooth must be full-sized before placement.
Invisalign
Do you have crooked or misaligned teeth? Invisalign is an excellent solution to address your concerns without the hassle of metal wires and brackets. It involves the use of clear aligners to gradually shift teeth into a more ideal and aligned position. The average length of treatment is usually 6-12 months, but it varies from patient to patient based on several factors.
Benefits
If you want to straighten your teeth with Invisalign, you can expect to reap many benefits, including:
Virtually invisible treatment
Easier to maintain oral hygiene
No dietary restrictions
Improved comfort
Shorter treatment timeline
The Ideal Candidate
Invisalign is not a viable solution for everyone. It's most suitable for adult patients who can commit to treatment and diligently follow recommended instructions from the dentist. Also, the clear aligners cannot fix every issue with teeth – if you have severe malocclusion or misalignment, you might not be a candidate.
How to Choose the Right One for Your Smile
When deciding between Invisalign and veneers, you must consider your smile goals. Although both options can enhance the appearance of your pearly whites, they do so in different ways. Invisalign solely corrects your bite and the alignment of your teeth. Veneers, however, can correct multiple issues like their color, shape, texture, and size. Once you understand what problems you want to address, it'll be much easier to determine the right treatment for you.
You may now better understand the difference between Invisalign and veneers in Mount Pleasant, but do you still need help deciding between the two? Ask your cosmetic dentist what they recommend. They'll help you learn more about each one and determine the best solution based on your budget, needs, and goals!
About the Author
Dr. Virginia Gregory has been working hard to bring comfortable, high-quality dentistry to families in the Mount Pleasant area for more than three decades. She earned her dental doctorate from South Carolina University and has become a Las Vegas Institute for Advanced Dental Studies-preferred dentist, which is a distinction that few dentists in South Carolina have achieved. If you are interested in veneers, she offers porcelain or composite. She is also ready to help you discover if Invisalign is right for you. Schedule a consultation on her website or by calling (843) 884-8884.