Smile Makeovers - Mount Pleasant, SC
Life-Changing,
Customized Smile
Transformations
Teeth come in all shapes, sizes, and alignments, and over the years, damage from accidents and natural wear-and-tear can really do a number on them. If you feel as though your teeth don't look and function the best they can and want to change that, Dr. Gregory and our experienced team can help! Smile makeovers from our Mt. Pleasant, SC cosmetic dentist are custom-tailored treatments that can address any number of cosmetic dental imperfections, including misalignment, discoloration, dental damage, and even missing teeth. By the time you're done, you'll be able to enjoy a complete, beautiful new grin customized to fit your goals and needs.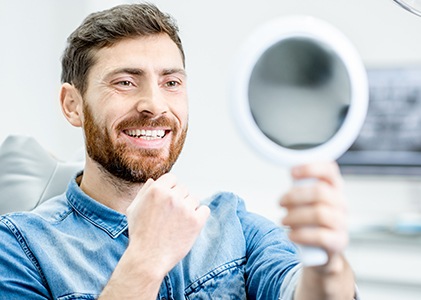 Why Choose Virginia Gregory, DMD for Smile Makeovers?
Financing with CareCredit Available
See What Results Will Look Like Before Treatment
Cosmetic Dentist With Over 30 Years of Experience
What is a Smile Makeover?
A smile makeover is the name that we use for any case that involves two or more cosmetic or restorative treatments to improve the function and appearance of a smile. It's a fully-visualized, head-to-toe oral transformation based on your goals, desires, and needs, which Dr. Gregory will discuss with you during your initial consultation. Based on the changes that you'd like to see, our team will create a treatment timeline for you that can include any number of the following services:
Teeth whitening
Dental implants
Porcelain veneers
Invisalign
All-porcelain crowns
...Or any other cosmetic or restorative treatment we offer!
The Benefits of Getting a Smile Makeover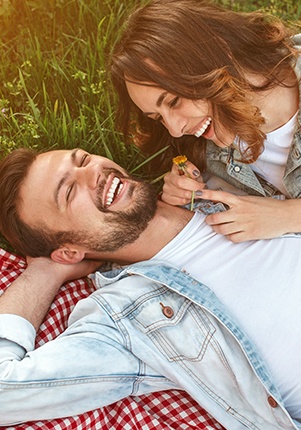 There are several benefits you'll be able to enjoy when you get a smile makeover, including:
Improved dental function by addressing underlying issues like bite misalignment and an incomplete smile.
Lower your risk of developing oral health problems in the future by making brushing and flossing easier.
Boost your confidence with a complete, symmetrical, and aligned smile.
Bring back your smile's youthful glow by addressing discoloration and other imperfections associated with aging.
Smile makeover results can last for years or even decades, depending on the treatments you receive.
Streamlined treatment by planning your entire smile makeover at once.
Understanding the Cost of a Smile Makeover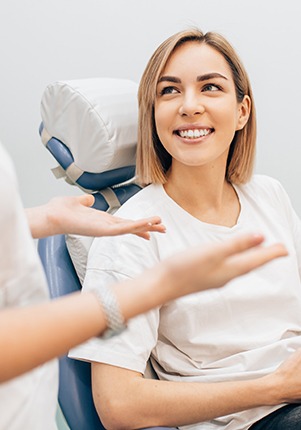 There's no set cost for smile makeovers due to the fact that every aspect of the treatment is customized to fit your needs. During your initial consultation, our team will help determine what types of treatments will fix the imperfections that you want to address. We'll also take into account other factors as well, such as your budget and if you have a timeline that you'd like the process completed by. Based on these, we'll be able to outline the cost of your smile makeover in greater detail at your consultation.
Smile Makeover FAQs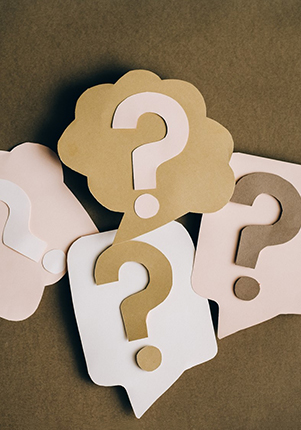 A smile makeover in Mount Pleasant can transform the worst aesthetic issues into a thing of beauty. However, it's a big investment, so it's normal to have some concerns. Dr. Virginia Gregory will explain everything each step of the way, so you feel confident during the road ahead. While you wait for your consultation, here are the answers to the most frequently asked questions about smile makeovers to help determine if it's right for you.
Which Procedures Are Right for Me?
A smile makeover isn't a single procedure. It involves specific services tailored to your needs. Since every mouth is as unique as fingerprints, there's no way to know which procedures are right for you without first examining your mouth. Dr. Gregory will learn more about your goals and assess your mouth to create a personalized treatment plan, which may include:
Teeth Whitening
Dental Implants
Porcelain Veneers
Invisalign
All-Ceramic Crowns
How Long Does a Smile Makeover Take?
There isn't a set timeline for a smile makeover because every situation differs. Many factors will affect how long it will take to reach your goals, like the procedures necessary. Some treatments can be performed in a single visit, like teeth whitening or all-ceramic crowns. However, other treatments can take multiple appointments or several months, like Invisalign or dental implants. You may also need a little prep work before starting your transformation. Dr. Gregory will explain exactly how long the process will take during your consultation. Our office understands your time is valuable, which is why we embrace the latest technologies and techniques to streamline dental care. You'll save time without compromising quality or aesthetics.
Does a Smile Makeover Hurt?
Dr. Gregory keeps your comfort a top priority. A local numbing agent can be used to block any pain. You might feel some unusual sensations or a little pressure, but you won't have any outright discomfort. After the effects of any numbing agents dissipate, your mouth might be a little tender for a couple of days. You can manage it using an OTC pain reliever and eating soft foods. Dr. Gregory may have additional aftercare instructions, depending on your procedure.
How Long Does a Smile Makeover Last?
Your cosmetic dentist in Mount Pleasant designs treatment plans to provide long-lasting results. However, various factors will affect the lifespan of your smile, like the procedure used. Some treatments can last for many years, while others can thrive for a lifetime, like dental implants. You can get the most from your investment by committing to your oral hygiene. Brush your teeth twice daily, floss every night, and add an antimicrobial mouthwash to your routine. Break any bad habits that can damage your results, like chewing on your fingernails or smoking. Visit your dentist every 6 months for a cleaning and checkup. The right care at home and from a dentist will ensure your new smile lasts its longest.
Come In • Meet Dr. Gregory • Put Together a Plan
Complimentary
Smile Makeover Consultation
Redeem Offer