Teeth Whitening – Mount Pleasant, SC
A Faster Way
to Remove Dental
Discoloration
Color is the feature of the teeth that tends to stand out the most. As such, having yellowed or stained teeth will likely make you feel embarrassed or self-conscious about your grin. This can also affect the kind of first impression you make on people. If you want the kind of smile that you can feel good about greeting others with, call Dr. Gregory today; she can offer a professional teeth whitening in our Mt. Pleasant, SC dental office that's quicker and more effective than any store-bought product.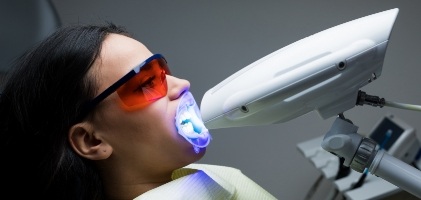 Why Choose Virginia Gregory, DMD for Teeth Whitening?
Quick,
Efficient
In-Office Whitening
Convenient Personalized
Take-Home Kits
Experienced
Dentist and
Dental Team
Why Do Teeth Become Discolored?
Sometimes tooth discoloration is just a natural consequence of the passage of time. As you use your teeth to bite and chew your food, the enamel protecting them becomes thinner, and as a result the dentin layer underneath becomes more visible; this gives the smile a more yellowed appearance. However, dental stains can also form due to:
Regular exposure to coffee, tea, dark sodas, red wine, and certain dark-colored foods and vegetables.
Using cigarettes and other forms of tobacco.
Not brushing or flossing your teeth adequately.
Certain forms of dental trauma or disease.
Taking certain medications.
We'll need to confirm what kind of discoloration you have before we use professional whitening as a solution.
Why Choose Professional Teeth Whitening?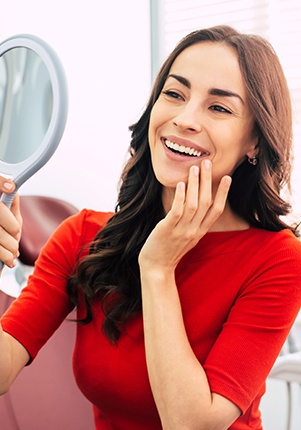 Simply brushing your teeth isn't enough to whiten your smile. At best, it can help you maintain your current shade, but it will do little to reverse discoloration that has already occurred. The issue is that the particles that cause stains are often beneath the surface of the enamel, where you can't reach it with your toothbrush. Even whitening strips and whitening toothpaste can generally only address surface stains. If you want your smile to shine, we recommend having professional whitening performed. This procedure addresses stains above and below the surface of the enamel, dramatically improving your appearance by several shades.
In-Office Teeth Whitening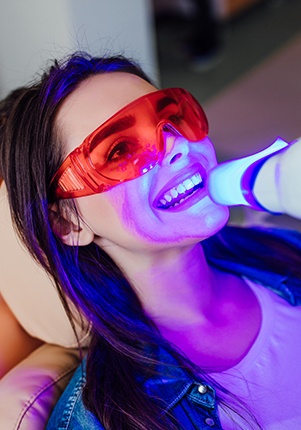 If you don't want to have to wait to see the results of teeth whitening, then you can schedule an in-office treatment. A powerful bleaching gel is applied to your teeth and activated with a special light. The gel contains ingredients that will penetrate the enamel so that it can break up the underlying stains. This procedure can be completed in less than an hour, meaning you can get the brighter smile you've been dreaming of in roughly the same amount of time it takes for your lunch break.
Take-Home Teeth Whitening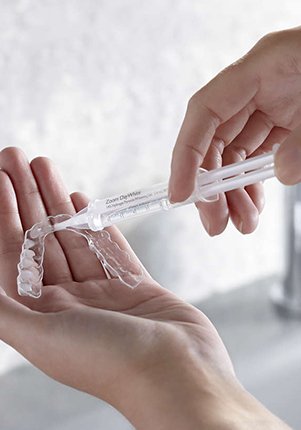 For those who'd rather have their whitening done at home, take-home kits are available. You'll visit our dental office twice. During the first, we'll take impressions of your mouth; this is necessary for creating mouth trays that are customized to fit comfortably over your smile. At the second visit, you'll be given your kit containing the trays along with the bleaching gel. You will fill the trays with the gel and wear them for about 30 minutes every day for the next 2 weeks. By the end of your treatment, your grin will be about 6 to 10 shades whiter.
Understanding the Cost of Teeth Whitening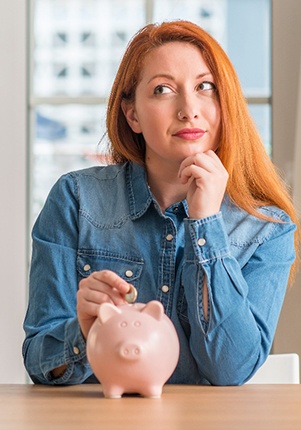 Are you looking to enhance the natural beauty of your smile? Teeth whitening could be the solution that you're looking for. Not only is it an effective way to address discoloration, but it can be completed promptly as well. However, it's important that you consider the cost of your treatment ahead of time. No one wants unnecessary surprises on their bill. Here are some things for you to keep in mind.
Factors that Affect the Cost of Teeth Whitening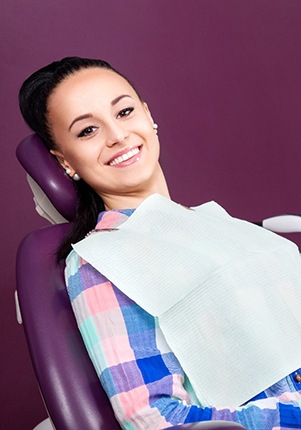 Teeth whitening is generally one set price, but several factors can affect how many treatments you need before achieving your desired results. Here are some of the most prominent ones:
How severe your staining is.
The type of discoloration you have (intrinsic/extrinsic)
Whether you need to have other treatments completed beforehand, like a filling or dental crown.
Types of Teeth Whitening: What Do They Cost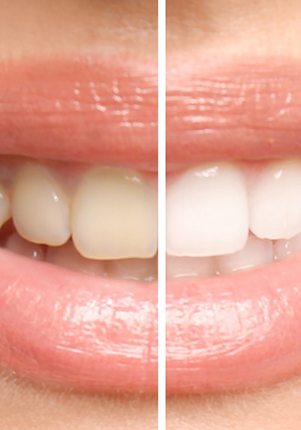 There are several different teeth whitening methods, and they all go for different price points. Here is what you can expect when it comes to the cost:
In-office teeth whitening typically costs between $400 and $800. However, rare cases can cost up to $1000 or more.
For take-home teeth whitening kits, the cost is usually around a few hundred dollars.
Over-the-counter teeth whitening trays generally go for less than $100.
Over-the-counter teeth whitening strips and gels are the most affordable option. Each box costs between $20 and $40 and contains enough to last up to two weeks.
Fast Teeth Whitening VS Inexpensive Teeth Whitening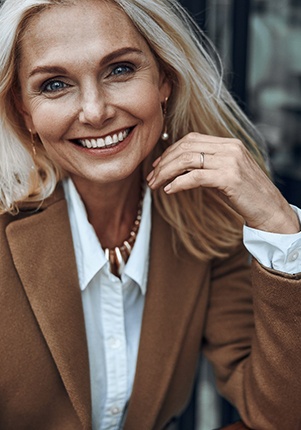 You may be wondering why professional teeth whitening from dentists is so common when it costs significantly more than what you can get at your local drug store. However, you should remember that when it comes to cosmetic dentistry, the quality of work is clearly reflected in the amount that you pay. When you use cheaper strips and gels, it's possible that you will see little to no results. On the other hand, professional teeth whitening is designed to whiten teeth quickly and dramatically. As for in-office teeth whitening, you can walk out of the practice with a smile several shades lighter in as little as an hour. When choosing which type of teeth whitening is right for you, be sure to consider the kinds of results you're looking for and how quickly you want them.
Options For Making Teeth Whitening Affordable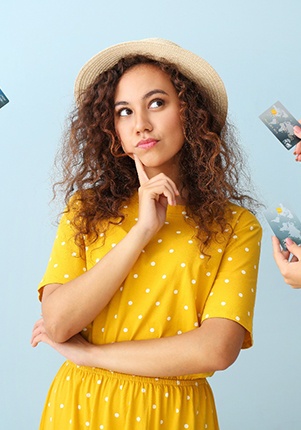 Teeth whitening is not covered by dental insurance because it is an elective treatment. However, this doesn't necessarily mean that you'll be left on your own. We work with CareCredit – a third-party financing company that can split the cost of your treatment into manageable monthly installments with little to no interest. Talk to one of our friendly team members to learn more.
To find out exactly how much you can expect to pay for teeth whitening, give us a call. We're eager to help you achieve a brighter smile!
Teeth Whitening FAQs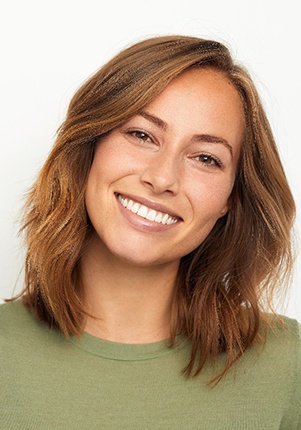 After reading the information above, you're probably excited to improve the color of your smile and get the bright set of pearly whites you've always wanted. Of course, it's completely normal to have a few concerns about the process before committing to it. At Smile California Dental Group, we want to be as helpful as possible throughout your transformation. That's why we've decided to answer some of the most common questions we receive from patients about teeth whitening in Mount Pleasant. If you don't see your specific question below, don't hesitate to contact us!
Does Teeth Whitening Hurt?
Dental anxiety affects between 50-80% of adults in the United States, with cases ranging from mild to severe. If you're a part of that statistic, you may be hesitant to undergo cosmetic dental work because you're worried the procedure will hurt. The good news is that professional teeth whitening Mount Pleasant shouldn't be painful at all! Since Dr. Gregory will customize the treatment to suit your needs perfectly, you're much less likely to experience tooth sensitivity. It's incredibly important to let our team know that your teeth are prone to sensitivity during your consultation. That way, we can determine the next best steps to make the process as comfortable as possible.
How Can I Make My Teeth Whitening Results Last?
Your newly improved smile can last anywhere from a few months to a few years, depending heavily on how well you take care of it. There are several steps you can take to preserve your bright results, including:
Practicing good oral hygiene (brushing twice a day, flossing daily, rinsing regularly)
Visiting your dentist every six months for a checkup and cleaning
Limiting your intake of dark-colored foods and drinks (tea, red wine, soda, soy sauce, curry)
Quitting poor habits like smoking and using tobacco
Am I a Candidate for Teeth Whitening?
Anyone with stained or discolored teeth may be a good candidate for teeth whitening in Mount Pleasant. The only way to know for sure if you're eligible for treatment is by scheduling a consultation with Dr. Gregory. She'll conduct an oral examination to ensure the teeth and gums are in excellent shape. This appointment will also allow her to learn more about your smile goals. If you have a dental problem (like gum disease), our team will administer the appropriate treatment first before working on your custom treatment plan.
How Long Does Teeth Whitening Treatment Take?
Professional teeth whitening in Mount Pleasant is not only a highly effective cosmetic procedure, but it's incredibly quick as well. In just one appointment, in-office treatment can make your smile up to eight shades brighter. On the other hand, a take-home whitening kit will gradually brighten your teeth over the course of a couple of weeks. Either way, both options are equally capable of giving you a radiant set of pearly whites you can confidently show off!
Come In • Meet Dr. Gregory • Put Together a Plan
Complimentary
Smile Makeover Consultation
Redeem Offer